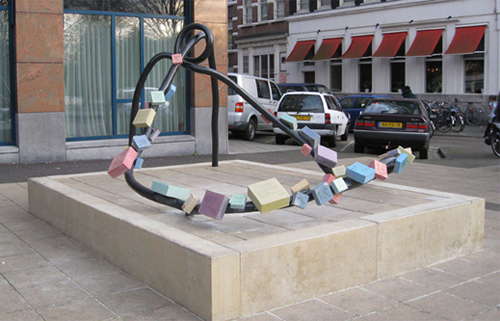 MONUMENT OF WISHES FOR PEACE

In May 2008 a Monument for Peace was placed on the 'Square of peace' near
the Muiderchurch, Linneausstraat 37, Amsterdam.
Artists: Elly van den Hout, and Scheper Trinette
Disclosure: May 17, 2008, by Gerdi Verbeet, President of Parliament
Object:
Monument of Wishes for Peace
Format:
280cm x 360cm x 170cm
with respect to the space available and in full compliance with the Plastic Number of architect Dom Hans van der Laan.
Material:
The artwork is made of steel, covered with powdercoating.
Technique:
37 Plastic 'jewels' in different dimensions.
The silkscreen-printed images of handwritten wishes were mounted on the polyurethane 'jewels'.
Customer:
Muiderchurch Congregation, Linneausstraat, Amsterdam

< RETURN