OPENING EXHIBITION DUTCH ARTISTS CALL5-GROUP EXHIBITS IN SPAIN

From October 7, 2016 to January 8, 2017 the CALL5-group, a Dutch art collective, exhibits in Museo Municipal Casa Orduña in Guadalest, in the province of Alicante in Spain.
The exhibition Through D.E.O. (Through Dutch Eyes Only) gives a powerful image of the Mediterranean temperament of Spain as seen through the eyes of four individual artists of CALL5. They were inspired by the culture of Spain, particularly through the rugged mountains in the region around the enchanting village of Guadalest.
The atmosphere of the landscape, the graphic look of the colorful houses, the cloaked stories of the residents and the hidden motives for human action and change, formed a colorful translation of the vision of CALL5-group on Spanish culture in the Costa Blanca region and beyond.
The CALL5-Group consists of four Dutch artists Elly van den Hout, Simone Houtman, Rob Meijer and Hetty van Oordt. The collective was formed in 2015 after accidental, inspiring encounters in the Spanish interior.
The exhibition consists of 60 artworks: paintings, photography, video, sculpture and installation.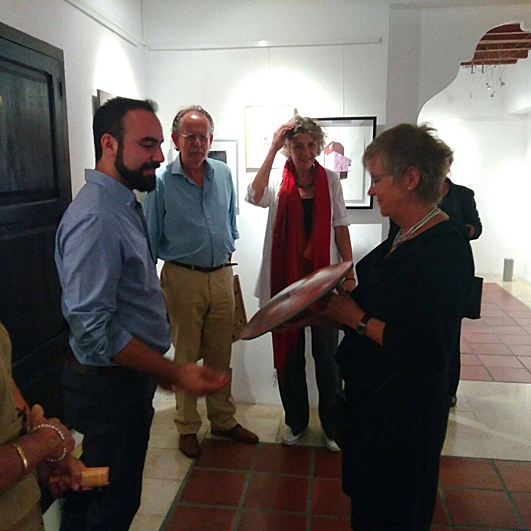 IN GUADALEST CALL5 WIDEN COLLECTION
With enthusiastic attending Friday, October 7th the exhibition "Trough Dutch Eyes Only '/' Solo a Traves de Ojos Hollandeses' Museo Municipal Casa Orduna in Guadalest has started.
Councillor for Culture, Joan Cadena, did the opening act in the receipt of four art works made by the Dutch exhibitors.
In a specially for the museum created work, the individual artists have responded to each other's contributions as a swan-tack-on. The donated works reflect the design of the exhibition. The storyline in the interaction of the artists - united in the collective CALL5 - runs through spherical Mediterranean infinity of alleged landscapes (oil, videos: Elly van den Hout) to sharply accentuated abstractions of the well-known houses in this region (oil, gouache: Rob Meijer). A look at the Spanish interiors raises questions about past events (oil, gouache Simone Houtman). The visitor with his or her thoughts test their vision on the actions of the Spanish people through two- and three-dimensional work. The latter certainly is an invitation to playing (photography, installation, sculpture, video: Hetty van Oordt).
The exhibition runs until January 8, 2017 at the department of modern art from the Museo Municipal Casa Orduna Castell de Guadalest. It consists of a total of sixty artworks in painting, photography and video to installation sculpture. The four-pieces of art work as gift to the museum is also to be seen for visitors after the exhibition. The other works can be purchased in consultation with the artists: www.CALL5.nl
Exhibition 'Through D.E.O.' (Through Dutch Eyes Only)
Centro a través de ojos holandeses
October 7, 2016 - January 8, 2017
Museo Municipal Casa Orduña, Guadalest, prov. Alicante, Spain
Opening 10:30 am untill 6:00 pm daily
www.guadalest.es
www.call5.nl